Description
Car wash soap with polymer protection that cleans to an amazing shine.
Our Car Wash Soap is infused with polymer that creates a LARGE amount of bubbles.  These long lasting bubbles are safe on all paint, metal and glass surfaces.  It's mild on paint and tough on dirt.  A scientifically formulated polymer sealant was added to our soap to help protect your car from the elements.  Used in conjunction with Paint Protect and Shine, they will extend the life of your paint protection product.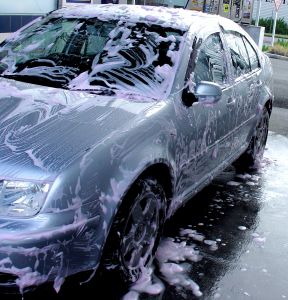 The correct car wash soap is one of the most important pieces to your car detailing efforts.  A soap that's too harsh can remove the protectingproducts you've previously applied, and a soap too mild will make you do all the work.  Also remember that normal wash cloths and sponges can trap dirt particles in them, and scratch your paint as you wash.  We recommend a microfiber wash mitt that will tuck the dirt into it's many pockets and release them into your wash bucket at each rinse.
Car Wash Soap with polymers can be used to clean all exterior portions of your vehicle.  It is safe on all material types of your car, motorcycle, motorhome, ATV.
Number of Uses
16oz (pint) Bottle = 16 washes
128oz (gallon) Bottle = 128 washes
How often do I use it?
Car Wash Soap should be used at each wash and dish soap from the kitchen should never be used. Car Wash Soap is a biodegradable, safe and environmentally friendly product.
Regular dish soap from the kitchen is NOT good for your car.  The heavy degreasers, aggressive cleaners and anti-bacterial agents can easily remove many waxes and sealants that you've carefully applied to protect your vehicle.  So don't use any soaps from your house to clean your car.