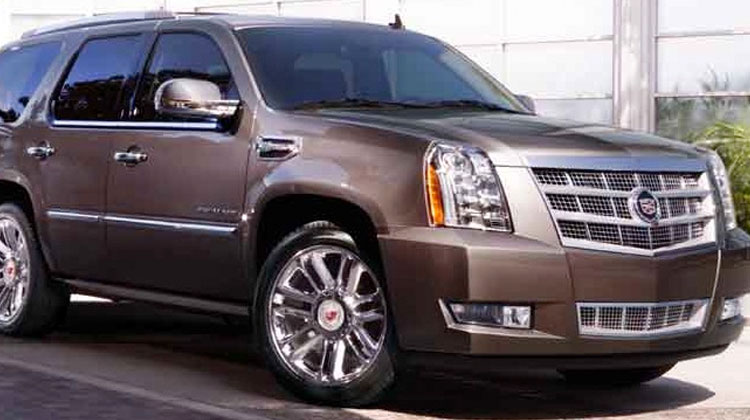 Cadillac Escalade ESV Platinum
Big Yep. Overkill Maybe. Luxurious… Absolutely
You can read all the reviews you want about the Platinum Edition Cadillac Escalade of this SUV giant but this is nothing short of posh. The exhaust note from this 403 HP is a mixture of a deep throaty growl and refinement.  Downshift using the manual shift mode doing down a hill and you hear the exhaust note rumble.
Sure there are more refined SUV's but not with this amount of cargo space.  The truck platform under the Escalade is getting old but it's still a great vehicle.  I'm looking forward to seeing the 2014 version that is up for a complete redesign.
My opinion: It's a cool car… well SUV
Top Speed: 106 governor limited
Coolest Features: Private Jet on 24 inch rims
Exhaust Note: Deep and Throaty
Own or Rent: Own
Horsepower: 403 HP
Towing Capacity: Over 8000 pounds
1. Would we want to drive it? Yes
2. Would we want to own it? Yes if money wasn't a concern.
3. What's the type of person that drives it? Somewhat elite families.
4. How do owners drive the car? Do they cut people off and weave through traffic?  Pretty conservative
https://www.carcarescience.com/wp-content/uploads/2013/11/PlatinumEscalade.jpg
420
750
Jeff Brooks
https://www.carcarescience.com/wp-content/uploads/2015/01/car-care-science-logo-20150101-b.png
Jeff Brooks
2013-08-10 04:31:56
2015-09-22 19:15:11
Cadillac Escalade ESV Platinum